welcome to the Surfin' Saturday Blog Hop.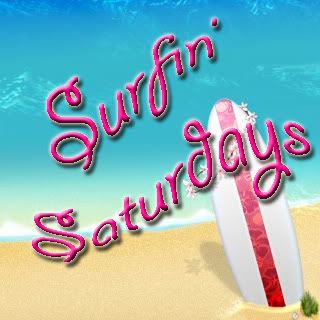 This is a great way to find new blogs.
So hop on over and take a look at those who have linked up and link yourself up.
on to my issue this morning.
First,
there is no coffee and the car is being borrowed, thats just wrong!
Second, I am looking for cross stitch monogram patterns.
For anyone who is wondering what the heck I am talking about, monograms used to be more than just a set of initials that got stitched onto towels or your shirt pocket.
Monograms were artistic, half the beauty of them was the intricate bordering and detailing involved.
Like these beautiful vintage reprints,
image property of Handmade-Adelaide-Baby.com
image property of Handmade-Adelaide-Baby.com
I found these on Handmade Adelaide Baby where lovely Miss Adelaide, a mom herself, keeps a plethora of great ideas for home made baby gifts and other frugal tips.
There are several more charts containing alphabets and borders. Each set of charts are available to download from her site as PDF's, which makes them able to be enlarged when viewed. Believe me it makes it way easier to read the stitches.
If you have never cross stitched before and want to try a simple initialed item is a good starting point because of how small the project is and it doesn't usually require any switching of colors. It will give you good practice on counting and stitching that will be useful for larger more intricate projects.
Believe me it's not that hard, I taught myself how to cross stitch with a booklet and a little help from my friend Tina. If you stay tuned I'll post a few tips and pointers over the next week.
Oh yes, I bet you want to know what I needed those patterns for,